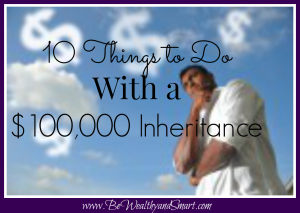 With aging parents, it is said the Baby Boom generation will inherit money. Many times I've seen an inheritance treated like a shopping spree rather than as an investment. Here are 10 Things to do with a $100,000 inheritance, the most common mistakes to avoid, and how to use it to become wealthy.
1. The statistics are not good for inheritances. Most are completely spent within 5 years! Treat a lump sum of money as special. It's hard for most people to save a large amount of money so having it handed to you is a real gift. See it as a nest egg to invest for your future wealth, not as a shopping account.
2. Realize it's your separate property, so if you're married, you don't have to share it, even in a community property state. As long as it's not commingled in a joint account and is left in a separate account with your name on it, it's your separate property. Do plan to have it longer than 5 years and do analysis of how much it can grow to. If you're not familiar with how to do this, listen to my podcast #43 on using the investment calculator. It's easy, listen here: http://bit.ly/1keSiNy
3. Don't make any abrupt decisions. Wait 6 months to a year before you do anything drastic. Really think it through. Impulse isn't usually best, you need to have some time
to seek wise counsel and make a plan.
4. Don't run out and buy a new car! Most people run out and buy a much more expensive car than they had before, which bring higher insurance costs and maintenance. Remember, a car is the worst investment! It's guaranteed to lose money (be worth less) as soon as you drive it off the dealer's lot.
5. Resist the temptation to "blow" it all. Don't treat it like HOT money you have to get rid of. After a friend inherited money, she wanted to shop and feel what it felt like to "blow money". She wasted it on clothes that a year later she didn't even wear.
6. Don't look at it like the lottery. Many people see it as a lottery win and don't take it seriously. See it as capital.
7. Do something responsible to change your future. This can pay for college,
a business, an investment that can generate wealth or income.
8. Think long-term – too many people think short term. Focus on long term "growth"
in an investment. Forgo the opportunity to "look rich" so you can "be rich' – don't go buy
a bunch of stuff to make you look rich.
9. Do meet with a financial advisor – CPA, Financial Advisor, insurance agent, lawyer, realtor. Invest in financial advice. Educate yourself before doing anything.
10. Re-do your will. Make sure your money will go where you want it to go. Having
a current will that takes into account current estate tax laws is important. You may also need to set up living trusts and testimentary trusts, depending on your circumstances. This can help avoid probate costs and estate taxes if something happened to you and
you met an untimely death.
Be one of the few "smart" people who understand an inheritance isn't a shopping spree, it's an account you're now a steward of. Being smart may also help you become a lot wealthier and have sustainable income for the rest of your life, not to mention peace of mind…and there's no price you can put on that.
Sign up for the free report below to get focused on your financial freedom.
Be an action taker and sign up for my "11 Quick Financial Tips to Boost Your Wealth" by clicking on the yellow bar above. Get access to the FREE REPORT now!