Podcast: Play in new window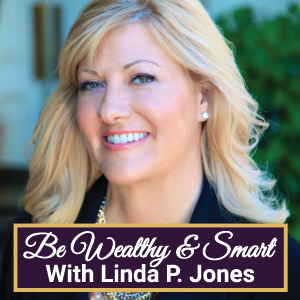 Learn what brands are the top 10 in the world and looking at them as a potential investment.
Hit the subscribe button!
This is from information in an article on Business Insider written by Ben Lovejoy.
A company called Interbrand writes an annual report of the world's most valuable brands.
"Interbrand assesses the all-in value of a brand by analyzing three factors …
• The financial performance of the branded products and services
• The role the brand plays in influencing customer choice
• The strength the brand has to command a premium price or secure earnings for the company"
Apple is #1 again.
"It this year estimated that the value of the Apple brand had increased by 3%, relatively modest compared to the five fastest-growing brands. The five Top Growing Brands include Facebook (48 percent growth) who leads for the second year running, Amazon (29 percent), Adobe (19 percent), Adidas (17 percent), and Starbucks (16 percent)."
But the top 5 growing brands are not the same as the 10 most valuable brands.
Trees don't grow to the sky. At some point, large companies will have a slower growth rate.
Think of a speed boat, small and able to go fast. Then think of an aircraft carrier, large and not able to go fast.
Because some of the top companies are in technology, the ability to grow big is enormous. A virtual company like Facebook doesn't need a lot of real estate vs. a Toyota that needs to build factories.
But the article notes: "tech firms make up 15 of the top 100 companies, just behind automotive at 16."
Profitability models are completely different. Think like one of the sharks on Shark Tank. You want large margins, a lot of profits and big sales.
It's pretty simple.
Take a company like Coca Cola. It was flavored water with some color and caffeine added. Pretty big margins right?
But they still had to buy cans and bottles, build bottling plants, deliver it to stores, etc.
Now think of Facebook or Google being mostly virtual. They rely on some staff, but their "product" is virual in cyberspace. They don't have to deliver, manufacture or mail anything. They only need some office space and employees to manage it.
That's why 6 of the top 10 are software or tech companies.
Here are the top 10 largest brands: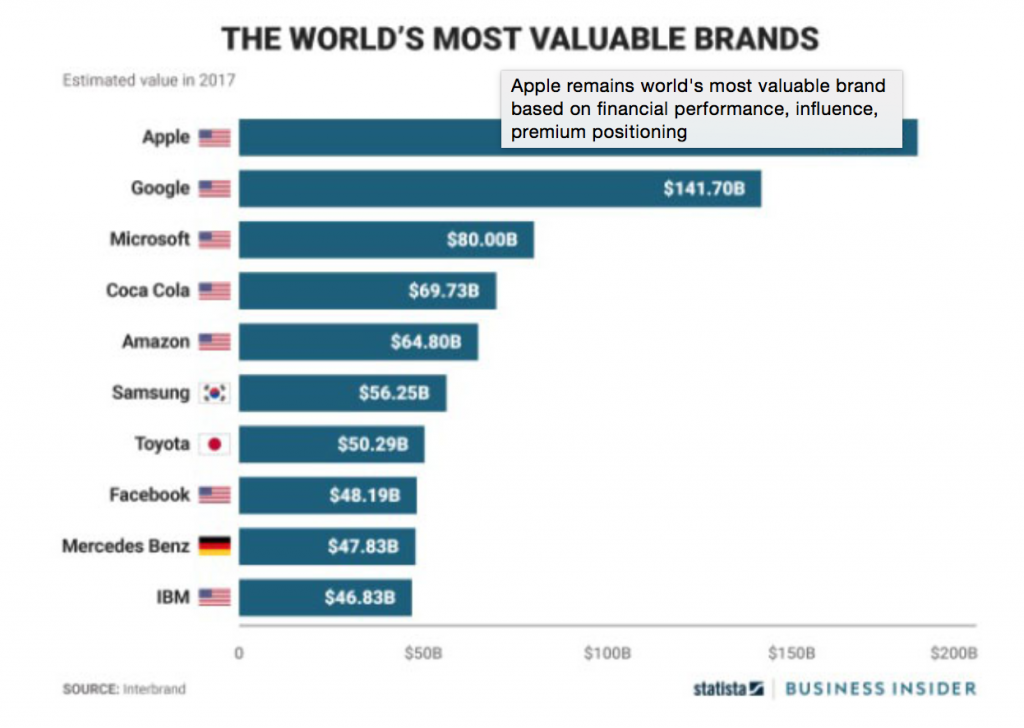 The full Business Insider article is here.
There's a difference between largest and growing fastest. As an investor for growth, you're looking for growth.
Where is the growth going to come from? For Apple, it's a new phone. For Microsoft, it's a new software. For Mercedes it's their electric cars due by 2022.
You want to be able to identify where the growth is. Maybe Coca Cola can continue to grow overseas, but with a health trend in the US are sales growing as fast? Have they diversified into healthier flavored waters, etc.?
Study up before investing. Large companies don't always grow fast. They tend to move in cycles where they can outperform and then small companies outperform during the next cycle. Small companies are actually outperforming many large companies this year. Will that continue? If the economy slows, it just might.
Your homework is to:
1. Research earnings of companies online and determine their growth rate for 1, 3, 5 and 10 years. Is it increasing, maintaining or declining?
2. Research how companies are going to grow faster in the future, or are their best days behind them? The stock market is littered with former tech darlings who are in the scrap pile from years ago RCA to AOL, NOKIA and others.
3. Pay attention to potential new companies online and investigate their growth rates. Companies like Shopify, Wix and Roku might be interesting to research. Again, you want increasing earnings!
*********************************
I'm having a summer giveaway through the end of September…you could win 6 awesome prizes:
5 of The Wealthy Mindset Blueprint (audio course): Learn how millionaires think the right thoughts for wealth before it happens (value $197)
             OR
1 Wealth Journal (book): Learn the 6 Steps to Wealth (value $67)
Here's what you need to do:
1. Leave the "Be Wealthy & Smart" podcast a review on iTunes (or Stitcher Radio for Android).
2. "Like" my Facebook Fan page at http://facebook.com/lindapjonesfanpage
(if you're on FB, if not, that's ok).
3. "Follow" me on Twitter at http://twitter.com/lindapjones
4. "Follow" me on Instagram @LindaPJones
5. Send me an email @ lpjhome@gmail.com and let me know you did this!
(If you're not on FB, TW or IG, that's ok, just send me an email @lpjhome@gmail.com and let me know you left a review).
If you've already done all 4 above, great! Thank you! No need to do them again! Just email me @ lpjhome@gmail.com and let me know.
All names will be dropped in a hat and a drawing will be done in early October for winners! 
Action Steps:
Write about your thoughts in your wealth journal: Wealth Mini-Course & Journal by Linda P. Jones
Sponsor: Audible – Get your first audiobook for FREE today. Over 150,000 titles to choose from for your iPhone, Android, Kindle or mp3 player. This is the way I "read" more books and stay ahead of the curve. Visit Audible and get your first audiobook free!
Financial freedom can be yours…