One of the most important concepts about having more money is to make your money work harder for you so you don't have to work so hard.
You might think making money is about slaving away, working longer hours, getting paid more hourly or other such misconceptions.
Don't get me wrong, they can help you make more money, but they will never be the path to financial freedom.
The only real path to financial freedom is to get your money working harder for you.
Saving money and being frugal, by itself, will never make you rich, nor will working longer hours.
It's only when you get money working, growing and compounding that you will make a dent in your financial freedom.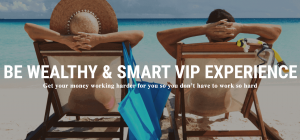 That's why I started the Be Wealthy & Smart VIP Experience™…
So you knew where to put your money and grow it
So you could avoid wasting time and making mistakes with money
So you could reach your goals faster and live without money stress
So you could re-boot and start over
So you could finally realize it doesn't take a lot of money to make money
So you could have wealth building "done for you"
Here's what some of our members are saying about the Be Wealthy & Smart VIP Experience™:
"Excellent information and insights. You piece all the noise together for us and help us understand how they fit and what they mean as a whole. This enables us to make great investments and profit from them xx thoroughly enjoying the program." – B.G.
"I'm enjoying the articles and it's great having a group of like-minded people around (well, virtually around!). Also the fact we have an expert who does not mind us asking questions!" 🙂 – G.R.
"I really enjoy feeling my fear lift with the more knowledge I gain from the webinars, articles and discussions. As a newbie, I appreciate the visuals included in the webinars. It makes everything much easier to understand and retain. The knowledge you share with us is worth its weight in gold (or silver! LOL). So grateful to be a part of this experience!" – M.S.
I encourage you to quit being a slave to money and let money start working for YOU.