How to Start Your Own Blog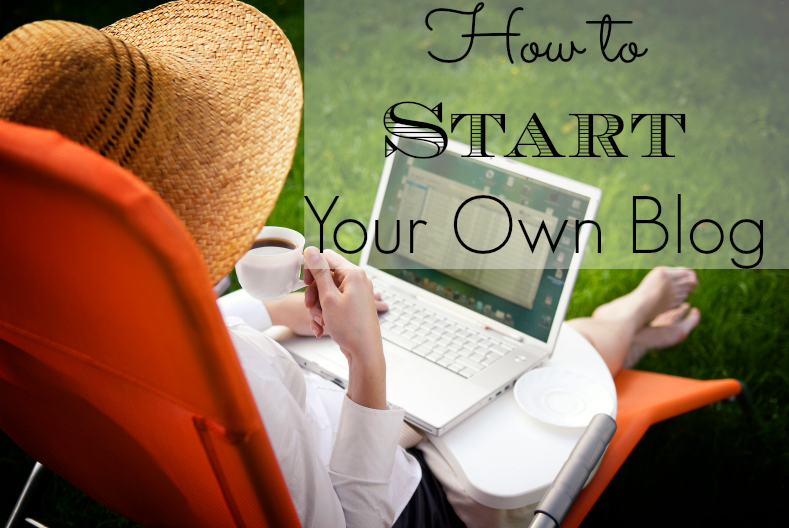 Looking for a "side hustle" to create extra income? The answer might be starting a blog.
Starting a blog isn't difficult, but getting it to make money takes time. This isn't an overnight solution. If you're dedicated and take the time to learn, you can do it. Here's how to get started. Simply follow the three steps below. You'll be up and running with your own blog before you know it!
Disclaimer: Please note that some of the links below are affiliate links and I will earn a commission if you purchase through those links. I recommend them because they are helpful and are companies that I trust.
The Three Steps to a "Side Hustle" Blog:
1. Domain Name and Hosting
This is important!
What do you want your domain name to be?
Mine is BeWealthyandSmart.com (and also LindaPJones.com). Both of my URL's go to the SAME website. I started with the URL BeWealthyandSmart.com so that people knew what my business was about. When they saw BeWealthyandSmart.com, they knew it had to do with wealth building. After I became better known, I added LindaPJones.com. If I had started out with only LindaPJones.com as my URL, you wouldn't have had any idea what my business was, what my podcast was about, or what my blog is about. I recommend your always start with keywords and what problem you solve in your domain name.
Next, think of as many different ideas as possible. Here are some rules of thumb:
1) Think "keywords" that Google would find. Having keywords in your title is almost always a good idea.
2) Don't be too clever. Don't make up a word or misspell a word on purpose. If you do, you're making it a lot harder for people to find you and you'll constantly have to spell it out. Keep it as simple as possible.
3) Be straightforward about what you do, what problem you solve, or who you're for. Think in terms of "benefits" to your clients.
4) Don't start out using your name as your URL, but do reserve it. As I mentioned above, I started with BeWealthyandSmart.com and added LindaPJones.com later. Go ahead and reserve your name as a domain name now, don't wait. You can always use it as an additional URL later and re-direct it back to your website. Only use your name as a URL if you are well-known and people know what you write about, ie. if you are a famous author.
Once you have thought of some possibilities head over to Bluehost to see if your domain name is available by entering it in the box that looks like this: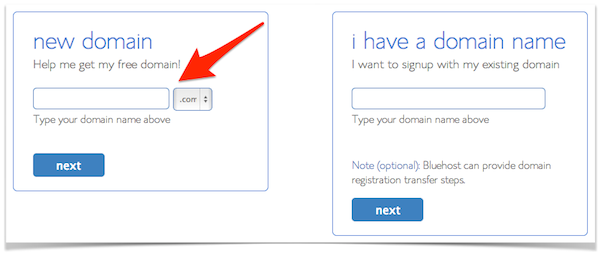 If you're asked to pick your plan level I'd suggest the Starter Plan, which is paid in one lump sum instead of monthly, but it'll save you quite a bit of cash.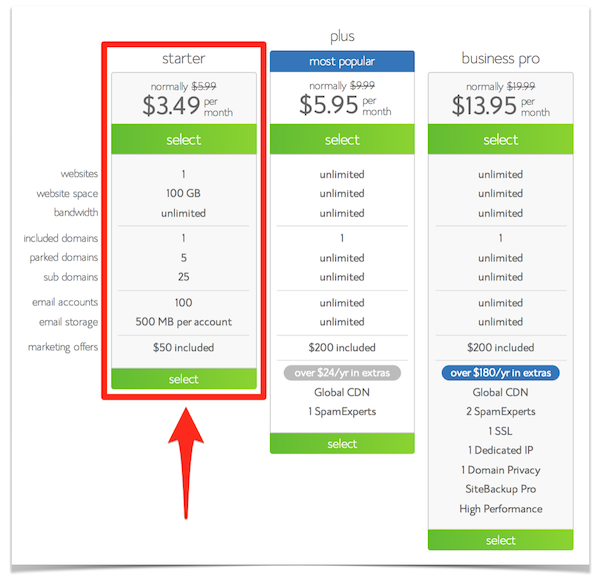 You'll also need to host your domain name. Hosting is like renting space on the web to display your blog. Bluehost has great rates and gives you your domain name for free if you decide to host with them.
You know how I love a good deal!
Below is a screenshot of what I use for package information settings.
The Domain Whois Privacy shields your personal address and phone number from being displayed to the public.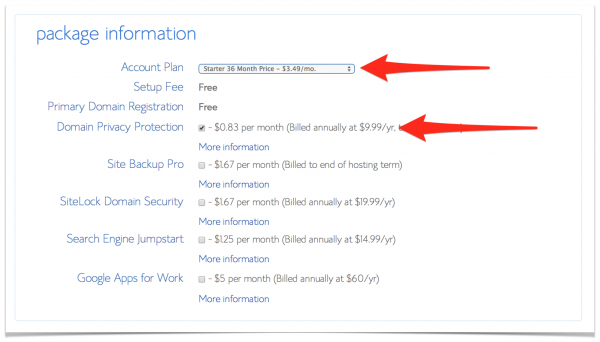 2. Installing WordPress
Once you've completed registration with Bluehost you'll need to go through the process of installing WordPress.
WordPress is a blogging software. It's the software that I use for BeWealthyandSmart.com. The best part is that it's SUPER easy to use and it's also super easy to install on your website.
Here's how: Login to Bluehost and scroll down to the Software/Services section of the first page. Click on WordPress logo.


On the next page click the option to "Install a brand new version".


Here is what your installation preferences should look like: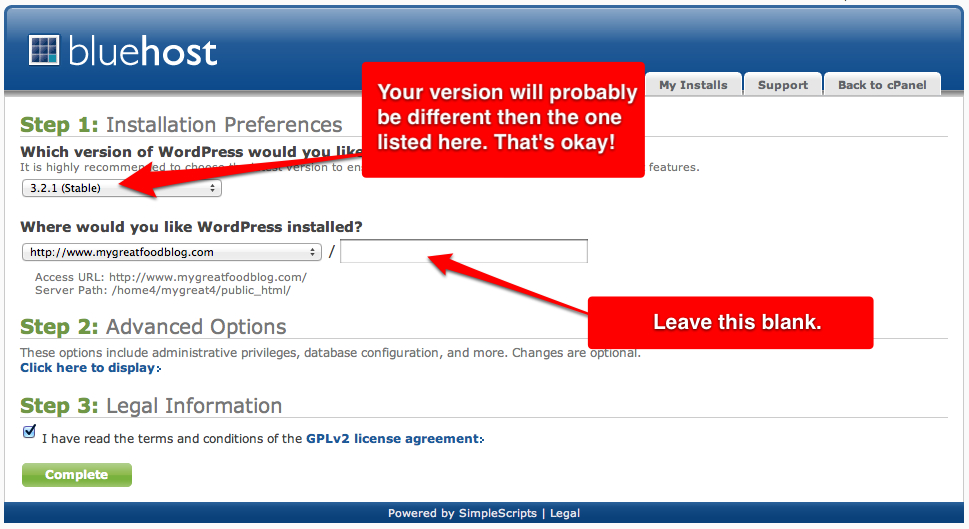 Click complete. If you get the warning below click "Overwrite Existing Files."

Once you get the "Installation Complete" you'll want to make note of the Login URL, Username, and Password to avoid lost password annoyance and frustration at yourself later. You can change these to something more personal and memorable later, but you'll need them for your first time logging in.

Type your Login URL into your web browser. You'll see a login screen like the one below. Enter your Username and Password you copied down from the previous step.
3. Making it Yours
At this point, you officially have your own blog! Congratulations! How does it feel? You're now a publishing mogul!
You're minutes away from sharing your expertise, knowledge, adding to the conversation, and making a difference in the world!
Before you jump in, there are a few things you can do to beautify your blog. It's time to pick your theme! WordPress has tons of free WordPress themes to pick from. You can scan through the options here. If you're looking for a premium theme, I recommend the Thesis Theme:
The Thesis Theme – This is clean and easy to use. I love it and highly recommend it.
Now you are on your way to getting your "side hustle" started! It may seem strange to be writing to people you don't know at first, but you'll get the hang of it!
Let me know below if this was easy for you and if you have any questions. Be sure to send me a link to your blog so I can congratulate you!
Sign up for the free report below to get focused on your financial freedom.
Be an action taker and sign up for my "11 Quick Financial Tips to Boost Your Wealth" by clicking on the yellow bar above. Get access to the FREE REPORT now!