Podcast: Play in new window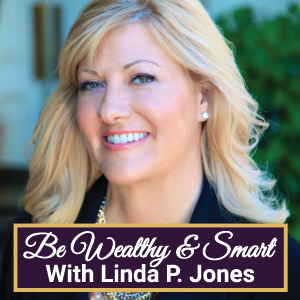 Friday is Listener Question Day.
Christy has 2 questions:

Linda,
I love your show and I've been binge-listening to old episodes. I've always been really afraid of investing and intimidated by anything related to finances. Your show is shifting my perspective and helping me take charge of my future with confidence. Thank you!
I have two questions. 1. What other resources (besides your show, and mailing list) would you recommend to someone who is trying to learn about this world with no prior knowledge. I want to learn as much as I can as fast as I can, and there is no end to the amount of books and podcasts, and blogs about the market, investing, business and economics, where is the beginning?
Thank you, Christy. I'm so glad the show is giving you confidence and shifting your thinking! That's why I'm here! I think many financial experts make investing too difficult and technical and it just doesn't have to be that way. I also believe that there's a mental connection to wealth and your thinking is paramount, so I include mindset, belief, and positivity into wealth building because from my experience that's also important. Everything I share with you is from my experience of wealth building and not what I GUESS or THINK will work, but what I KNOW works.
If you're hungry for more knowledge, then I suggest you start with the financial books I recommend. Go to lindapjones.com/books and get the list of 7 fantastic financial books I recommend for your must-read library. All these authors have a similar perspective on money and investing like I do and I highly recommend them.
Part 2 of her question is:
2. I've started investing in Silver Eagles. I'm planning on holding on to them for the foreseeable future. But if and when I do want to sell, what is the most practical way?
Thank you for all you do!
As you know, I like silver Eagles for many reasons – their incredible growth potential, low initial investment and protection from problems with the dollar due to excess government debt and the current cycle we're in. Good for you for investing in them!
When you want to sell, the dealer you bought the silver from will likely buy them back from you at the "spot" silver price – what the pure metal sells for per ounce on the commodity exchange, plus commission and a profit. It's usually about a $3 extra charge, but it varies depending on the market and the dealer.
I usually get asked where can you buy silver?
I recommend you go online and search for a coin store near you. When you find one or a few, then go to Yelp.com and review comments people have made about the dealers. If there are a lot of complaints, find someone else. Look for a coin dealer who has been in business for a decade or more, knows their stuff and is honest. Typically you will pay a premium over the "spot" (current) price for gold or silver to cover the dealers shipping, handling, insurance and profit. Two or three dollars over the spot price is fairly typical. My favorite coins are American Eagles. Some dealers have tried to offer my clients other countries' coins (kind of bait and switch) and I don't recommend you buy anything other that American Eagles and Canadian Maple Leafs if you are American or Canadian. If you are not American or Canadian, you can buy gold coins from your home country ie. if you live in South Africa, buy South African Krugerrands, in China, buy Chinese Panda's, etc.
Don't tell anyone aside from your spouse that you bought them. NEVER mention it in casual conversation or at a cocktail party or you are making yourself an easy target for desperate people who may have heard your story repeated by friends of friends. Store your coins in a secure safe that is bolted to the floor. I anticipate these investments will gain significant value so you need to take serious measures to protect yourself and your investment.
I also like Goldmoney.com as a way to diversify gold and silver coins, hold them outside of your home and also diversify by geography. I had the founder, James Turk, on my podcast #97. I have had an account there for years and love the flexibility. You can wire money from your bank account to your goldmoney.com account and buy gold, silver, platinum or palladium with it. They keep it in a Brink's facility and it's audited quarterly to ensure it's there. It's segregated from other accounts and in your name only. You can sell it at any time and wire the money into your bank account. You can hold the metals in five different countries and transfer between them. There's no cost to open an account and I recommend you open an account in case you want to use it someday. It's the only business I endorse to hold your metals, no one else. I do not receive any payment to say this from them, it's strictly my own experience and high regard for their brilliant founder, James Turk.
Before you do any investing, check with your financial advisor. There is risk of loss of money on any investment. If you are investing, dollar cost averaging by buying at regular intervals can help you buy at a lower average cost. I think metals prices will pull back in the next month, so late May to early June may be an opportune time to buy.
Advance your wealth building by clicking on the button below to get your free report, "11 Quick Financial Tips to Boost Your Wealth" and get richer now!