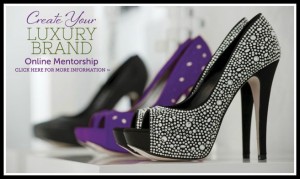 "7 Mistakes to Avoid When Creating Your Luxury Brand™"
A complimentary one-hour audio training with Linda P. Jones
You will learn:
What makes a luxury brand
How to attract high-end clients (instead of repelling them)
The 7 mistakes most entrepreneurs make when trying to become a luxury brand and how to avoid them
Listen to the class by clicking the arrow on the left side of the black bar below (volume can be adjusted on the right side of the black bar):

At the end of the call, go to the page Linda is describing, here. The recording will continue to play while you go to the next page.
You'll discover how to get a 1/2 hour consultation with Linda about your luxury brand and save $200 on the popular "Create Your Luxury Brand™" course. Use code "Luxury200" at checkout.
Enjoy!