With the holidays quickly approaching, you may start to feel anxious about how much money to spend for the holidays. The pressure is on – the kids want a lot and you don't want to let them down, your spouse, your relatives, your friends – the budget always seems to go out the window as you desperately try to find the perfect gift and usually end up overspending…then being angry with yourself.
Are you ready for a different plan this year? Great!
Let's examine WHY we get into a spending frenzy and then re-think this. Every year you probably intend to start earlier, hit the sales in July, and have it all wrapped up way before the holidays, but life gets in the way and somehow there are people on the list you add at the last moment, people who give you things you didn't intend to receive from (and now you have to get them something), and on it goes. You try to find the perfect gift – and others are trying to find that for you too – but, honestly, it rarely happens. More money is wasted on unwanted gifts than you might think.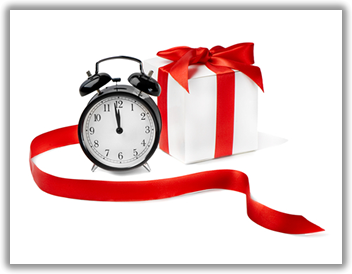 So, what can we do instead?
Give the precious gift of your time and create experiences together!
This year, put aside buying the "stuff" and instead create experiences. Spending time together will create memories you'll cherish forever and is heads and tails above a pair of socks.
My husband and I used to give each other the gift of a cruise almost every year. Eight years ago he passed away. The memories we have from our times together mean more to me than any other gift I've received. I have no regrets about not spending enough time together. After he died, I realized it was the memories of the experiences we had that I valued above any of the gifts I received over the years, no matter how expensive. Time together added a richness to our life that a material item cannot.
My former assistant, Amy, learned this when her children went to a "rich" person's home to play. All her kids could do afterward was talk about how large the TV was. So much so, she almost cancelled plans to take them to the Jersey shore for the weekend to instead buy her kids a bigger TV. She read a blogpost I had written about "creating experiences" instead of "buying stuff" and it led her to tears. She ended up keeping her plans and taking her kids and the neighbor's child to the shore for an unforgettable weekend. I'll even bet the kids enjoyed the change of scenery and special time with the family much more than just sitting in front of the TV – and they will have the great memories forever!
So here's your new "create an experience" plan: spend a day to create colorful and elegant "certificates". The certificates can be good for a cup of coffee with you (good for co-workers), breakfast, lunch, dinner, or drinks. Don't write a dollar amount on it, but have a dollar amount in your mind for how much it will cost. (Coffee for two is maybe $8 at Starbucks, breakfast about $15, lunch about $25 – 35, dinner $50 – 100, and drinks $50 for 2 glasses each plus tax/tip). Think of a fun day trip you could take to a nearby small town. Buy some stiff card stock at Michael's and cut it into rectangles. At the top write "Nothing's more precious than the gift of time." Put your name and the recipient's name on it and personalize it with fun designs. Make some extra certificates and set them aside for those unexpected gifts you have to give out at the last minute. Put an expiry date of 1 year on it to be sure it gets used. Wrap the appropriate gifts and give them to your friends and family. You may also want to create a family or group experience like a trip or cruise. When they open your gift, book a date right away to enjoy the experience together.
Now celebrate! You completed your goal of finishing your shopping early – you can relax and really enjoy the holidays for once! You will find your holidays are much more meaningful, less stressful, and you and the recipients will both enjoy the holiday season and the gifts more. Over the rest of the year you will be enjoying the greatest gift – creating new experiences together and sharing the precious gift of your time.