I was so sad to see Oscar de la Renta passed away recently at age 82. I felt a special connection to Oscar because on my honeymoon, we stayed at a hotel Oscar decorated to the nines: the Puntacana Resort and Club in the Dominican Republic, the island where he was born and raised. The hotel was spectacular and so tasteful, bright and cheery, yet elegant and refined. Oscar had the quintessential touch for design. It was like a Ritz Carlton combined with a couture gown.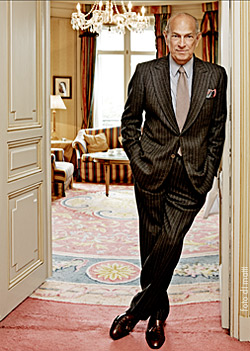 While I was reading about his life, it struck me how his journey paralleled my wealth building formula, the "6 Steps to Wealth" to a "T". As a boy, Oscar dreamed of being a painter (Step 1: Create a Wealthy Mindset – visualize what's possible for you and believe you can do it). He saved his money (Step 2: Save a Nestegg) and moved to Spain. While studying at the Academy of San Fernando in Madrid, he was mesmerized by the fashion world and started sketching for leading Spanish fashion houses. Eventually, he became an apprentice to Balenciaga, then moved to Paris as a couture assistant at Lanvin. (Step 3: Find a Mentor).
After moving to NY, he worked for Elizabeth Arden for 2 years before launching his own collection in 1965. (Step 4: Invest in a Money Engine – starting a business is how 77% of the wealthy create their wealth). He dressed first lady Jacqueline Kennedy, film stars, and royalty (Step 5: Compound at a High Rate). He then diversified his business by launching a perfume line in 1977, accessories in 2001, and homewares in 2002 (Step 6: Protect Your Wealth – diversification is often used to protect the wealth you create).
Most recently, Oscar designed the wedding dress for Amal Alamuddin's betrothal to George Clooney. She looked stunning in the off the shoulder, lace dress. Widowed by his first wife, Francois, Oscar married Annette Reed, in 1989. He adopted a son, Moises after Francois died. Annette's daughter and son-in-law now run the de la Renta businesses. The fortune Oscar amassed during his lifetime is reportedly over $100 million.
What can you learn from Oscar's story?
1. Follow your dreams – Always listen to your heart and passion. You are a creator, allow your creativity to flow. Do the things that bring you joy.
2. Take action – Be an action taker. Have faith and confidence you can achieve your dreams and that your life has a purpose.
3. Realize how unique you are – It's easy to think you're not special, or gifted, or don't measure up. The truth is, everyone started at square one. The one's who succeed are the ones who try and don't quit.
4. Go for it – It's not too late. Many successful people made fortune and fame in their 50's and 60's such as singer Susan Boyle who first performed professionally at age 48, Ray Kroc (McDonald's founder in his 50's), Colonel Sanders (founded Kentucky Fried Chicken at age 65), Mother Teresa, and even Grandma Moses who began painting at age 76!
Take one step forward today toward what your heart desires. That is soul-level wealth.
FREE Report Reveals…
11 Quick Financial Tips to Boost Your Wealth