Wealth Journal – Simple Steps to Become a Millionaire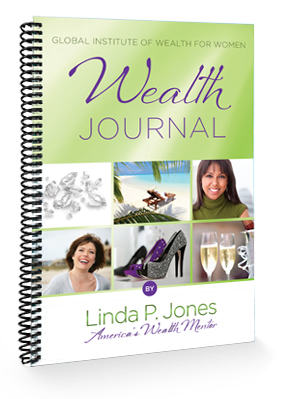 The Wealth Journal is how to become a millionaire 101. In this program, Linda shares the simple steps she used to become a millionaire, that you won't hear from a financial advisor.
Learn the steps to wealth
Information is presented in bite-sized pieces
Easily understandable
Simple exercises
Create your gratitude list
Calculate your net worth and watch it grow!
Extra pages to use as a journal

This spiral-bound book is the book Linda gives to every member of her exclusive mastermind, she loves it that much! The Wealth Journal will get you started on the path to financial freedom.
A must for anyone who wants to start building wealth, have financial security, and gain confidence with money!
NOTE: This is a physical book that is mailed to you.

Only $67.00
---
Wealthy Mindset Blueprint – Audio Book (For Immediate Download)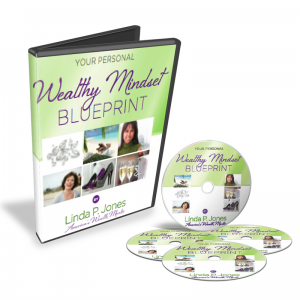 "Millionaires work on their mindset and prepare for wealth long before they receive it." – Linda P. Jones
"The Wealthy Mindset Blueprint" is packed with wealthy millionaire mindset secrets that will help you unlock your wealth potential.
Does this sound like you?
Do you have big dreams, but can't even get started?
Are you frustrated you haven't achieved the success you intensely desire?
Do you see big things for your life, but can't seem to get off the ground?

Linda personally guides you to:
Understand why you don't have the success you want
How to identify the programming and subconscious beliefs that are getting in your way
How to create healthy wealth building habits daily
Change your limiting beliefs about money and shift your beliefs from lack to wealth
Step-by-step instructions guide you through this almost two-hour program to create your written wealth blueprint for success
Includes 4 MP3 (digital audio files) for immediate listening and addition to your permanent personal financial library
Only $97.00
---
Be Wealthy & Smart Intensive: Secrets to Make Money & Become Wealthy On Purpose!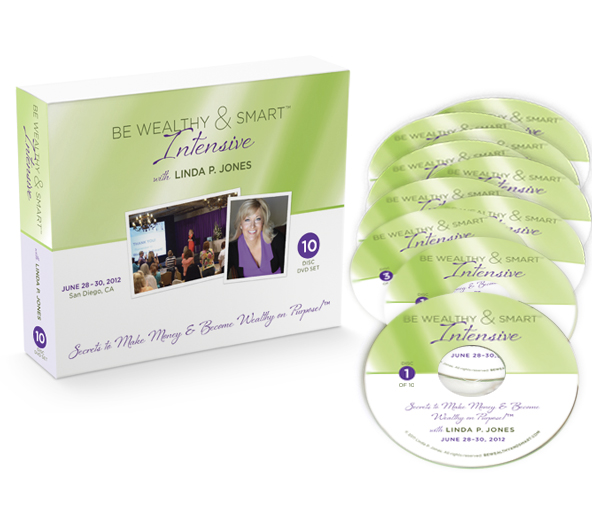 Are you ready to build significant wealth in the next 3 to 5 years? What would it be worth to you to know in advance where the next fortunes will be made (like the internet, tech, and real estate bubbles)?
In this 12 DVD set from Linda's popular "Be Wealthy & Smart Intensive", you'll learn:
Where you should be investing right now to prepare to effortlessly build wealth in the next bubble (that is quietly forming)
Why billionaires are chomping at the bit to make their next fortunes, and you can too without having their money
How to think with a wealthy mindset to have the wealth you desire
Why you don't need a lot of money or investment experience to become wealthy
Why fortunes will be made in the next 5 years and how to get yours
Linda's teaching style is to take cutting-edge information and make it easy to understand and implement the concepts. She gives you all the details about where the ultimate bubble of all bubbles is forming, how to invest, and specifically what to buy (with ticker symbols).
What you learn is so "in the know", after watching this you will be on your way to creating wealth – and even be able to comfortably converse with a billionaire at a cocktail party!
Only $797.00
---
Big Ticket Sales Boutique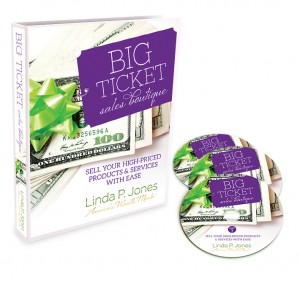 The Big Ticket Sales Boutique is the consultative selling way to offer your high ticket products and services with ease!
When talking about your products and services, are you ever:
uncomfortable asking people to pay you money?
feeling that charging a low price will bring a huge crowd of buyers–and then it doesn't?
feeling like you have to prove your worth, instead of just owning it?
resisting charging more money (and tend to give most things away for free) because you feel charging more is taking advantage of people?
dreading the sales conversation and wish you didn't have to do it?
If so, then this course is for you!
In this course you will learn:
How to effortlessly get higher prices for your products and services
How to stand in your true value and feel comfortable asking for more money
Why you should charge more and not be afraid it will cause you to lose sales
How to have a consultative style that makes selling relaxed, gives you a template to follow, and results in the prospective client asking YOU if they can buy!
I'm confident you will earn back the price of this program on your first sale!
Included are 3 action packed 60-minute CDs, along with transcripts, plus a lovely binder to store it in for your permanent business library. You'll have THE BIG TICKET SALES BOUTIQUE to refer back to for years and years.
This is exactly what you need to leap and make this next year hugely, financially successful!
Only $197.00
---
Create Your Luxury Brand: Price, Package, and Promote Your Way to High-End Clients!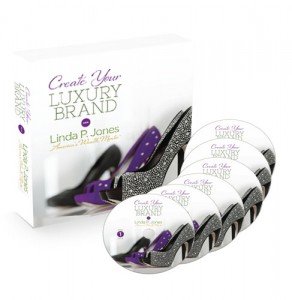 Learn…
Why everyone has a luxury brand in them, even if you sell hamburgers!
Why you must charge more than you might imagine
How to know what your customers want even before they do
How and where to find affluent clients
and so much more!
A must for business owners or prospective business owners wanting to save time, energy, and money by creating a luxury brand™ business and attract high-end clients.
This course goes way beyond branding 101 – it goes into the psychological buying triggers of the affluent that I learned from expert consultants while in the high net worth financial world.
Adapted for entrepreneurs, so you can attract high-end clients and leave everyone wondering how you did it!
Discover your "highest perceived-value" - that thing you do (and probably don't realize) that clients will pay you top dollar for.
The complete "A to Z" on how to create high-ticket packages your affluent clients will love!
Includes six (6) MP3's (digital audio files) and a pdf file – five (5) Create Your Luxury Brand MP3's to download, one (1) Q & A MP3 audio. Also includes one (1) pdf file of all the transcripts, links to the homework questions, and a BONUS pdf file called "Luxury Fonts and Colors."
Only $697.00
---
---


I want you to be happy with the programs you purchase from me, and if for some reason you aren't, then I want to make it right. If a program doesn't meet your expectations, just let me know within 30 days of your purchase and I will give you a 100% refund.
You have my word on it!


All orders are processed securely.