Wealth Mini-Course & Journal – Simple Steps to Become a Millionaire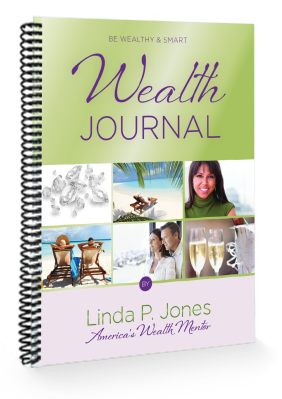 If you're getting started building wealth, this is for you. Linda shares with you the simple steps she followed to become a millionaire and you can too.
Learn the 6 steps to wealth
The powerful exercise that tames your financial fear
Gain financial confidence and control
Feel worthy and deserving of wealth
Concepts are easy to understand and follow
Includes additional pages in the back to record your progress and journey to wealth

NOTE: This is a physical book that is mailed to you. FREE SHIPPING INCLUDED!

Only $67.00
---
Wealthy Mindset Blueprint – Audio Downloads (For Immediate Learning)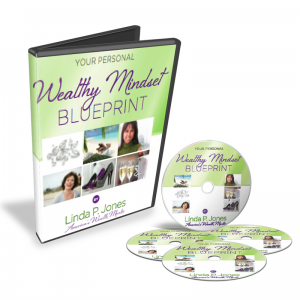 "Millionaires work on thinking the right thoughts and creating the right neural pathways for wealth in their mind before they receive it." – Linda P. Jones

In "The Wealthy Mindset Blueprint", Linda guides you how to create new neural pathways to ease your way to financial freedom and a personalized, detailed plan to unlock your wealth.

Create a step-by-step wealth action plan that's personalized to what you desire
Learn the 12 specific sentences that will give you the confidence that you can create wealth
Know the one thing millionaires have in common that will increase your chances of having wealth
Formulate your personal wealth blueprint for building wealth, even if you have trouble imagining what you really want
Includes 4 MP3 (digital audio files) for immediate download and inclusion in your permanent wealth library
Only $97.00
---
Be Wealthy & Smart Intensive: Secrets to Make Money & Become Wealthy On Purpose!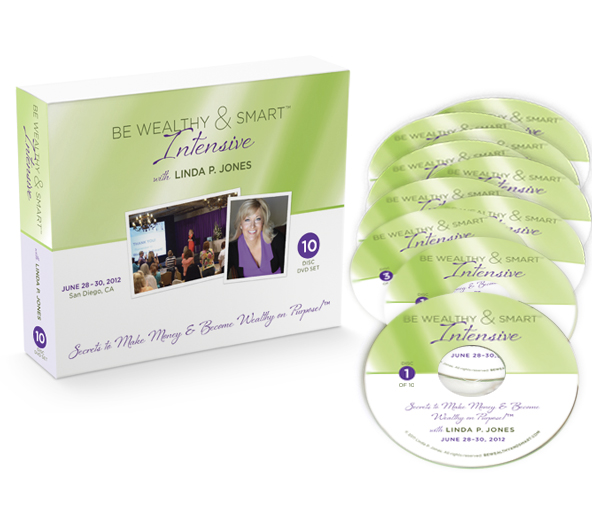 Are you ready to build significant wealth in the next 3 to 5 years? What would it be worth to you to know in advance where the next fortunes will be made (like the internet, tech, and real estate bubbles)?
In this 12 DVD set from Linda's popular "Be Wealthy & Smart Intensive", you'll learn:
Where you should be investing right now to prepare to effortlessly build wealth in the next bubble (that is quietly forming)
Why billionaires are chomping at the bit to make their next fortunes, and you can too without having their money
How to think with a wealthy mindset to have the wealth you desire
Why you don't need a lot of money or investment experience to become wealthy
Why fortunes will be made in the next 5 years and how to get yours
Linda's teaching style is to take cutting-edge information and make it easy to understand and implement the concepts. She gives you all the details about where the ultimate bubble of all bubbles is forming, how to invest, and specifically what to buy (with ticker symbols).
For details about the content of every CD, CLICK HERE.
Only $797.00
---
Big Ticket Sales Boutique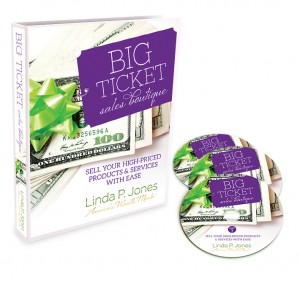 The Big Ticket Sales Boutique is the consultative selling way to offer your high-ticket products and services with ease!
In this course you will learn:
How to effortlessly get higher prices for your products and services
How to stand in your true value and feel comfortable asking for more money
Why you should charge more than you are comfortable charging
How to have a consultative style that makes selling relaxed, gives you a template to follow, and results in the prospective client asking YOU if they can buy!
I'm confident you will earn back the price of this program on your first sale!
Included are 3 action packed 60-minute CDs, along with transcripts, plus a lovely binder to store it in for your permanent business library.
Only $197.00
---
Create Your Luxury Brand: Price, Package, and Promote Your Way to High-End Clients!
(Download to Begin Learning Immediately)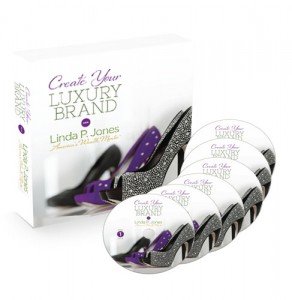 A must for business owners and prospective business owners who want to provide the highest quality products and services, be the luxury brand in your industry, become the market leader and dominate your market, create raving fans and attract high paying clients with ease. You will learn:
Learn how to exude quality with your products and services
Have consistency in your pricing, packaging, website, and communication that appeals to high-end clients
Attract affluent clients like bees to honey
The psychological buying triggers of the affluent (that I learned from high-end consultants while in the high net worth financial world) so you can understand what clients want even more than they do
Where to find and how to attract high-end clients so your business can thrive in any economy
How to stop leaving thousands of dollars on the table and discover your "highest perceived-value" – that thing you do that clients will pay you top dollar for
The complete and detailed explanation how to create high-ticket offerings your affluent clients will love and cause them to refer their friends to you!

The course includes:
Create Your Luxury Brand training (5 hours of audio MP3's) for busy people to listen on the go
Luxury Brand Q & A session (1 hour recorded audio MP3) with answers to FAQ questions
Transcripts of CYLB training and Q & A session (PDF download)
Questions for you to print out and answer to create your luxury brand
BONUS training – audio and handout of "Luxury Fonts and Colors" that create luxury brands
Exclusive Lifetime Create Your Luxury Brand™ Facebook group for 24/7 connection with like-minded entrepreneurs
For more details about luxury brands and specifically what's in each Create Your Luxury Brand Training, CLICK HERE.
Only $697.00
---

100% Happiness Guarantee
If you are not 100% satisfied with any of my courses, just let us know within 30 days of your purchase, send any physical product back to us, and receive a 100% refund of the cost of the product.

More merchants trust Authorize.Net than any other payment gateway to process their ecommerce transactions securely.