Recently Forbes published it's wealthiest people in the world issue. For the third year in a row, Carlos Slim, a telecommunications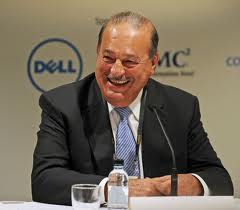 mogul from Mexico, topped the list with $69 billion.
Not surprisingly (at least not to me), Carlos owns a silver mine (hmmm, where have we heard that before?). He owns junior mines in Mexico which mine silver, gold, and copper.
I don't think it's just luck or a coincidence he is investing in commodities, do you?
Although mining stocks have been underperforming, gold and silver bullion the last year, what will change that is a sustained uptrend in gold and silver prices or any increased bout with inflation. I think we'll likely see both this year.
If you want to participate in junior miners like Carlos is, the easiest way is to buy GDXJ, the junior mining ETF that invests in a basket of about 72 small mining companies.
One of my favorites, Minefinders (MFN) was just acquired by another one of my favorites Silver Standard (SSRI) and increased 23% last Monday when the takeover was announced. The junior miners are sooooo undervalued right now, I wouldn't be at all surprised to see more acquisitions soon.
Maybe Carlos will be the buyer?
His latest project is to form a new internet TV network called Ora.TV (in English that means "Speak.TV"). Here's what he said about his new venture:
"What I can tell you in general is that our work is to be the carrier that gives connection and access to our customers. At the beginning in telephony, you connected [people] to talk to each other. ….Now [it's] video. There are so many applications and content coming that our focus is to try to support and … give our customers what they like whenever they like it, in the best … quality and price. That's our focus."
Obviously Carlos sees opportunity to create more wealth by creating an internet TV network. Anyone can start an internet TV show for free on websites like Livestream. Video online is the next big thing. Got an expertise you can teach online? If so, perhaps you will be the next online media mogul?