Want a personal tour of the Master Stateroom on the Ionian Princess, the very one I stayed in on Bravo TV's Below Deck Mediterranean?
Please be my guest as I take you on a tour of the lovely Master Stateroom…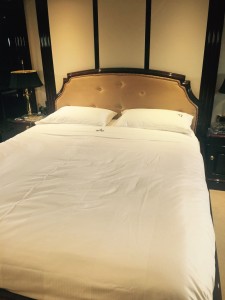 As you walk into the Master Stateroom, the bed is straight ahead. (As you can see, the crew left chocolates on the bed for us every night). To the left and right are big closets and to the far right are some built in dressers beneath a long lapis counter top. Immediately you feel like you're in a luxurious cocoon. There's plenty of space for a lot of clothes and I could only image what it would be like to be on the yacht for months at a time. It's a nice fantasy. 🙂
The color scheme is blue, white and gold along with dark, mahogany wood. It's very rich feeling.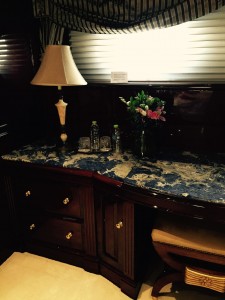 I love natural gemstones and lapis lazuli is a favorite of mine. When I saw the counter tops were lapis, I fell in love. They were the most beautiful part of the ship (other than the yacht itself which is very impressive!).
On the long counter top above the dressers were more of my favorite Stargazer lilies (surprise!). Their fragrance made the room smell so good! The counter has a small bench you can pull out and sit on or sit down in front of a make up mirror and do your make up.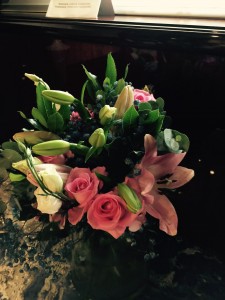 There was always bottled water there on the counter with glasses in case I wanted some.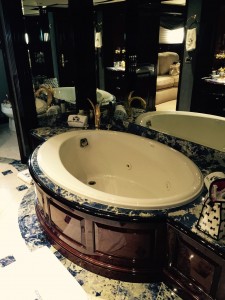 In the bathroom, there is a large jetted soaking tub with the infamous gold swan faucet.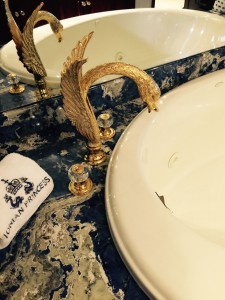 Even the towels are personalized with "Ioninan Princess". There is a his and hers toilet and a nice large shower.
The room is large enough to also have a small sofa to sit on. The room feels very spacious and it was a lot of space for just me!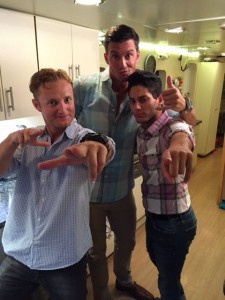 There are also double sinks with more lapis counter tops and the sink faucets matched the gold swan bath faucet. It was a lovely place to get ready in the morning or for our evening events. I have fond memories of doing my hair and getting ready for one of our elegant dinners cooked by Chef Ben.
Of course the crew cleaned the stateroom every day and it was always sparkling. I never saw anyone in there, so how they got all of their chores done, I have no idea! I guess they were taking care of it while we were at dinner.
I'll admit it was very hard to leave. While I was packing my bags, I was wondering if they've had some difficult guests who have refused to leave? It's easy to get used to the pampering and service that was provided and I had the time of my life.
I don't know if the photos do it justice, but believe me when I was in it I felt like a queen.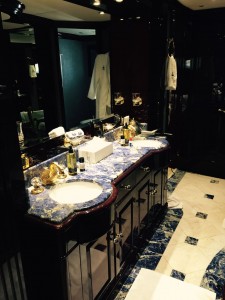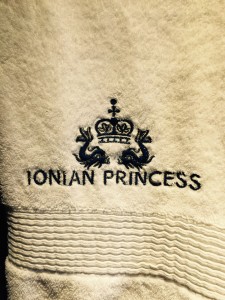 Want to know who I am and how I got to be on Below Deck Mediterranean?

If you're interested in learning how to work with me, check out the Be Wealthy & Smart VIP Experience here. Also, don't forget to check out the free, award winning Be Wealthy & Smart podcast here.
Advance your wealth building by clicking on the button below to get your free report, "11 Quick Financial Tips to Boost Your Wealth" and get on the path to financial freedom!