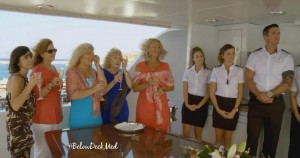 Since appearing on the Bravo TV show, Below Deck Mediterranean in Season 1, people ask me, what's it like to charter a yacht and be on the show?
First of all, chartering a 150 ft. yacht is amazing. Prior to this charter, I had been on about 20 cruises, some of them high-end brands, like Crystal and Windstar, but none of them compare to having a yacht to yourself, your own amazing chef and crew, and being able to plan your own itinerary!
What's it like? It's like being a queen! The crew rushes to please you and take care of your every wish, they anticipate your desires, and whatever you say goes – it's heaven!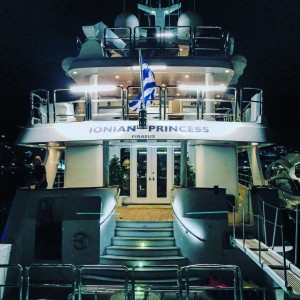 You are surrounded by a yacht of total luxury – lapis lazuli countertops in the bathroom, three stories of public staterooms, salons and decks, a hot tub and bar on the top, your favorite fresh flowers, Waverunners to play with (incidentally that was my first time on a Waverunner and I absolutely LOVED it!). Besides the gorgeous yacht, and solicitous crew, just being surrounded by the stunningly beautiful Mediterranean was enough to make me feel incredibly grateful to be there.
The crew was amazing. We had a great time with them all. We laughed and joked and really appreciated the hard work they did for us. Bobby creating the stunning campfire really impressed us. He must have worked a long time to get it all so perfect! Ben's food is better than you think from watching the show. The salmon truly was the best I'd EVER had, and I've had a LOT of salmon being from Seattle!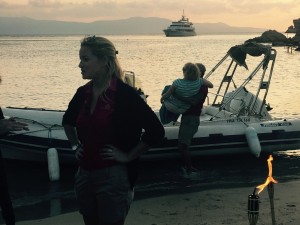 Bryan was very professional taking us on a ride in the tender and Tiffany packed cold drinks even though we didn't ask for it. They anticipate your every want and it is very impressive! They took us for a pleasant boat ride along the stunning cliffs and we were "wowed" by the scenery. We had fun conversations with them about ancient history and Bryan seemed to know a lot about it.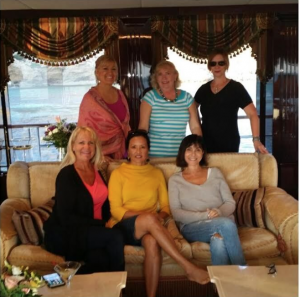 All the extra things they did for us like finding a jeweler to come aboard and the violinists they had for us were really nice touches. Everything was to our liking and planned how we wanted it. Since we were there as a business group and womens' retreat, our needs were a little different than usual. We weren't there to party and get crazy, just have some fun, do a little business and have some bonding time. We had so much fun and it really was the trip of a lifetime.
Want to see more photos? Find out what it's like for Chef Ben Robinson to cook for you.

If you're interested in learning how to work with me, check out the Be Wealthy & Smart VIP Experience here. Also, don't forget to check out the free, award winning Be Wealthy & Smart podcast here.
Advance your wealth building by clicking on the button below to get your free report, "11 Quick Financial Tips to Boost Your Wealth" and get on the path to financial freedom!