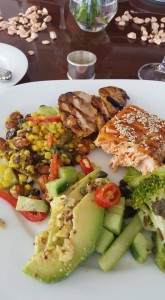 It was a real treat to be able to eat Chef Ben Robinson's cooking on Below Deck Mediterranean. I've watched the other Below Deck for years and always heard guests say how good his cooking was.
We came aboard the yacht and were very excited to sit down at the table for our first meal. It was a medley of 3 salads, salmon and chicken. It was sooooo delicious!
I've eaten a lot of salmon in my life because I lived in Seattle until 6 years ago. I can honestly say Ben's salmon was the best I've ever had! When I asked him the secret, he said "truffle oil". That made sense because I love truffles on everything!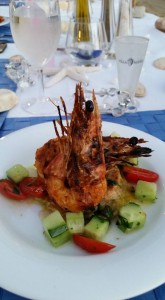 Maybe it tasted extra delicious since we were in the Mediterranean on a yacht, but I think Chef Ben is THAT good. It was the first of many incredible meals he prepared for us. And those s'mores! He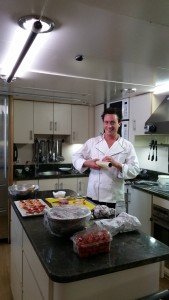 couldn't source the ingredients in Greece (Hershey's chocolate, marshmallows and graham crackers), so he had to make do with what he could find! Hence the multi-colored peeps! He used the Cadbury milk chocolate and they were delicious!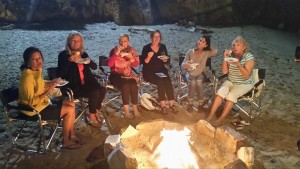 Well, what else can I say?
Want to see what the master stateroom looks like on the yacht?


Advance your wealth building by clicking on the button below to get your free report, "11 Quick Financial Tips to Boost Your Wealth" and get on the path to financial freedom!