Have you ever noticed your family circumstances influence how you think about money?  Working with clients, I've noticed that there are beliefs they often have that come from their parents.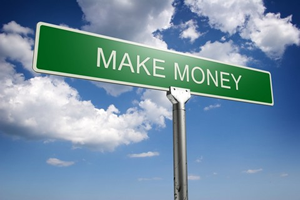 Their parents have habits from when they grew up (we'll never be rich), how their parents acted while they grew up (mom or dad were spenders or savers), or the experiences they had while they grew up (short on cash, etc.).  It affects their belief system today, even though that was a long time ago.  It's kind of like the baby elephant that is chained when it's small, and still believes it can't break the chains when it's an adult.  Because it's ingrained in our subconscious, we're not even aware of it, but it is expressed in our lives, because what you believe about wealth inside is what you will create in your life.
Napoleon Hill first taught me this when I read Think and Grow Rich.  I was about 10 years old.  I was a swimmer and my coach used to quote from the book, "Whatever the mind can conceive and believe, it can achieve." I found that to be true in sports. Later when my Dad died and I quit my job, I was without an income for a year at age 27. I sat on the couch and tried to visualize being rich in order to create it. A pile of cash didn't appear, but looking back, I had offers come to me that I turned down because I didn't realize something really was happening from the visualization.  I was writing a novel and an agent volunteered to work with me.  I had a call offering me the opportunity to plan a big conference.  I turned down these things because I had subconscious blocks that didn't allow me to see The Next Step had appeared before me.  I was so closed minded, I couldn't believe I was a good enough writer or that I could produce the conference.
In hindsight, I can see when I finally allowed God or the Universe to give to me, and I believed I would have what I visualized, only then was I able to move forward and become a millionaire. It was at my pace, which was slower than if I had been more consciously aware of the process like I am now.  It would have been a much faster pace, had I been able to receive and believe at the same time.  This is why I begin the wealth program I teach with a Wealthy Mindset.  Because after being in the investment industry over 25 years, I can see wealth starts way before you make an investment.  It starts with what you believe you can achieve.  I see this more clearly now that I'm an entrepreneur.
Things are now appearing before me exactly as I am envisioning!
Recently there was an article in the paper about concert promoter Jerry Weintraub.  He said he has had many rather mystical experiences in his life, that could seem like coincidences, but he believes they were because of a higher power.  Like the time he met with movie executives who were looking for a script like Ocean's Eleven.  He knew writers who had written the perfect script.  The next day they were coincidently seated next to him at a restaurant. "I cannot tell you how many hundreds and hundreds of times this has happened to me," he says.  It may sound woo-woo, but it works!
So here are some ideas for helping you to understand the money beliefs in your subconscious for yourself:
1.  Think about your family life as a child.  What did your parents tell you about money?  How did your mom and dad act with money?  Were they savers or spenders?  How financially successful were they?  Why?
2.  Look for a relationship between what your parents believed and what you believe.  How they acted with money and how you act with money.  See any similarities?
3. Here's an off the wall question.  What brands are you drawn to for cars and clothing?  What do they have in common? Do they fill a financial need or want you have?
4.  What do you believe about money?  How much do you see yourself having?
5.  What limitations do you see for yourself?  Why?  What's standing in your way?
I could go on with questions that will enlighten you about your conscious and subconscious money beliefs, but I'll stop here.  Realize YOU are in control of your finances and your financial future.  YOU can create what you want, if you know what that is.
We'll be exploring more of this in the Global Institute of Visionary Wealth's teleclass series.  I'll show you how to know your subconscious limits and how to re-frame them so you, and not your subconscious, is in control.  Having a written plan is the first step and we'll be working on Drafting Your Personal Wealth Blueprint in the first class in July. Why not decide to make a change, invest in yourself, and join me?
To get started, click here:  http://lindapjones.com/members-benefits/