Here are a list of 5 things that will get you in the holiday spirit. All that shopping, decorating, baking, cooking, and wrapping can really send you down a stressful path. I'm hoping you'll do at least one of these 5 things for YOU: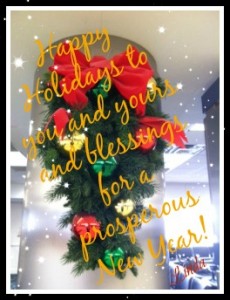 1. Make a list of 10 things you're grateful for, no matter how small. Writing a gratitude list always changes your mindset to focus on your blessings and brings you joy. It might be for the littlest things – even a cup of hot cocoa or a home-baked cookie. Focus on the things you have, appreciate, or love to do.
2. Give yourself some belief change statements to focus on. Your brain might be on the channel, "what I can't do" and "how much I have to do", instead of what you can do. How about saying a few positive affirmations like:
– I feel and look beautiful just as I am.
– I have everything I need to live a joyful life.
– This is the best holiday season ever.
– I am filled with happiness and gratitude for all my blessings.
Watch how changing your thinking can actually make them come true!
3. Do something for yourself. We often do everything for others. Do something YOU will appreciate, whether it's getting a holiday latte', a chocolate dipped strawberry, or a 10 minute neck massage, give yourself a little treat. You deserve it!
4. Do something unexpected for someone else – a random act of kindness. Carry someones packages to their car, make a donation, pay for a stranger's latte', help someone find something in a store or reach a top shelf. Go out of your way to do one thing on purpose for a stranger.
5. Buy yourself a little gift for Christmas or Hanukkah. You buy gifts for everyone else, this one is just for you. If you don't have much money, it can be small an symbolic of a future intention, like a child's plastic diamond ring. Go to Tiffany's and spend $75 on a business card holder or scarf. Buy a box of Godiva chocolates. Indulge yourself in a little way you normally wouldn't do.
There you are, dear one. Five ways to have more joy this season, because, after all, aren't we trying to bring joy to others? This year, let's start with you and see how everyone around you lights up.
Sign up for the free report below to get focused on your financial freedom.
Be an action taker and sign up for my "11 Quick Financial Tips to Boost Your Wealth" by clicking on the yellow bar above. Get access to the FREE REPORT now!