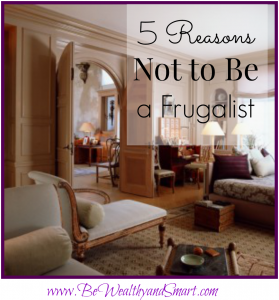 Recently I was at a conference for financial bloggers and podcasters.
It was very eye opening to me because some of the attendees age 25 – 35 were what I call "frugalists."
A frugalist is someone (in my opinion) who believes that living below your means (typically on $18k to $25k per year) will allow you to save and invest enough so you don't have to have a job.
Yes, it can all sound very attractive…get out of the rat race, don't work for anyone, have total freedom.
It sounds good, especially the teachings of one very popular blogger who literally is inviting people to live near him in Boulder, CO and live on less than $25k a year, until you see the lifestyle is so out of balance.
When I heard him say he rides a bike to the grocery store and has a trailer on the back that carries his groceries, that he doesn't ever go to restaurants or have a beer with his buddies, that he is helping someone build a 200 square foot home in her backyard so she can rent out her residence, I realized it's just gone too far. What kind of a living is that?
It's certainly not "wealthy" or what I call "soul-level wealth" which is feeling wealthy on the inside as well as having abundance on the outside.
It's accepting "lack" thinking as your everyday mantra. It's ruling out many joys in life.
Some of my favorite things to do aren't that expensive, but I could never imagine:
1. Not living in a beautiful space and having a gracious home where I can entertain and have guests over.
2. Not going to a restaurant or sitting outside at a cafe with friends and having a glass of wine or two.
3. Not driving a car that I enjoy and get pleasure from, going on a road trip, or feeling the wind blow through my hair in a convertible.
4. Having camping be my main "travel". Are you kidding me? Missing out on traveling to beautiful cities like Rome and Paris, seeing great museums with breathtaking art, and experiencing other cultures would make me a very one-dimensional person.
5. I feel like I'd be "missing out" on so much of life that is spectacular – what about simple pleasures of riding on a boat, the thrill of skiing down a mountain, or even the rush of finding a great bargain at your favorite store?
6. What about doing charitable work that helps others and is so fulfilling or living your purpose and creating a legacy?
To miss out on some of my most favorite times in life, especially when I was younger, would have taken all the spice and joy out of my life, and ironically, made it all about money, when that is supposedly the thing frugalists are trying to get away from!
Yes, I agree the Millionaire Next Door talked about living below his means (and I do some of that too), but it's not to the extreme of frugalists.
Am I careful how I spend money? Yes. Am I super frugal, meaning do I avoid spending except for bare necessities? No.
Do I wait to buy things I want on sale, at a discount, and at outlets? Heck yes! I believe you can have everything you want, just buy it at the right price. You've heard me say many times I buy Jimmy Choo shoes at the outlets and save thousands of dollars. Do I HAVE to have them? No. Does it bring me joy and do I feel like a million bucks when I wear them? Yes!
Do I occasionally use coupons? Yes, but I don't spend hours scouring the paper for them because my time is worth much more than a few cents saved.
I also think there's a huge elephant in the room that financial planners and bloggers are missing: instead of living frugally and limited, why not add an income stream and increase your standard of living?
It's more possible today than ever before thanks to the internet. I've been working on changing my business model from hands-on to automated so I can free up my time to do things that can reach more people and make a bigger impact. That's possible today with email, video, podcasts, etc. because we don't have to deliver things LIVE anymore.
Books, video, and audio have been tried and true methods of learning for years and there's a lot of leverage by creating it once and having it teach over and over.
All that said, here are my 5 reasons why I believe you should absolutely NOT be a frugalist:
1. God gave us abundance and an infinite Universe. To accept less would be an inability to receive the blessings we are here to receive.
2. You will experience more in life. Having a limited menu of things to do is like going to the same restaurant every day and being served the same dish rather than having a broad menu to choose from.
3. It robs you of your dreams. If you can't dream about having more, creating more, being more, then your growth is stunted and your dreams will never be realized. Trying new things builds confidence you can accomplish more and it builds character.
4. Your thoughts create your life, so if your thoughts remain "small", then you are voluntarily living with blocks and limiting beliefs about what's possible. That sounds to me like a lack of belief or faith.
5. Instead of living frugally, think of adding an income stream. How would an extra $1k to $3k a month change your life? I think a lot.
My point is this: life should be lived in balance. Live well, live a good life, and be smart about saving money and investing. There's so much joy that money can bring to ourselves and others when we're not creating limitations. Be open to what life brings you and believe in the power you have to create the life of your dreams.
FREE Report Reveals…
11 Quick Financial Tips to Boost Your Wealth