Podcast: Play in new window
Subscribe: iTunes | Android | RSS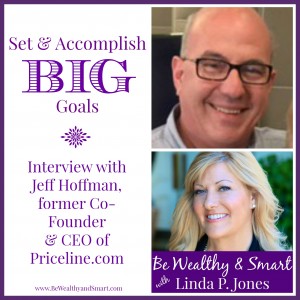 Learn how to set and accomplish huge goals with Priceline co-founder, Jeff Hoffman. Jeff talks about how a dream became the $60 billion company, Priceline.com and how he won a Grammy for his first album! Hear from a penultimate entrepreneur how to get off the couch and create the success most people only dream about. Learn the power of writing things down. This is a fascinating interview you won't want to miss!
Mentioned in this Episode:
Jeff Hoffman, former Co-Founder of Priceline.com co-authored a book called Scale: Seven Proven Principles to Grow Your Business and Get Your Life Back
To subscribe to the podcast, please use the links below:
Click Here to Subscribe Via iTunes
Click Here to Subscribe Via Stitcher on an Android Device
Click Here to Subscribe Via RSS Feed

Leave a Review for the Podcast
If you haven't done so already I would love if you took a minute to leave a quick rating and review of the podcast on iTunes by clicking on the link below! It would be extremely helpful for the show and I'm aiming for 100 5-star ratings soon! We are currently at 67 5-star ratings – you are amazing, thank you!
Watch a video on how to leave a review for the podcast.
To receive my thank you gift to you for your review, send a quick email to my assistant at Support@LindaPJones.com letting her know you left a review, and we'll send you an audio recording, "Secrets of Billionaires". It's 20 minutes about how the ultra-wealthy are planning to make a (another) fortune and you can too!
To leave a review, click HERE. When you get to the next page, click the blue button "Listen in iTunes", listen to an episode, and click on "Ratings and Reviews" across from my photo. I so appreciate it!
Start shifting your thoughts to believe "more wealth than you think" is possible for you, by getting my series, "21 Days to a Wealthy Mindset", free! Click HERE.
Sign up for the free report below to get focused on your financial freedom.
Be an action taker and sign up for my "11 Quick Financial Tips to Boost Your Wealth" by clicking on the yellow bar above. Get access to the FREE REPORT now!